Webinar
"Tell me and I will forget. Show me and I will remember. Involve me and I will understand"
Olaf Lawerman (directeur en medeoprichter Company Webcast BV)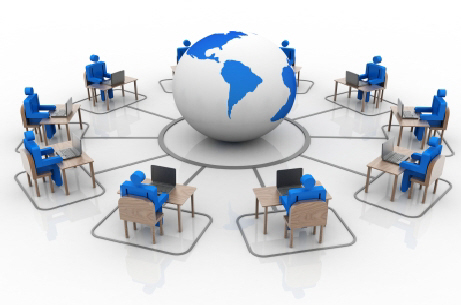 Webinars are widely used in business. Indeed, it's the ideal way to communicate with a large, small or very specific audience. This 100% online event is based on the 'one-to-many' principle whereby a presenter is giving a presentation for a large targeted online audience. For example, the tool is used to launch a product, for personal contact with the target and to strengthen the market. This can be by webcam or using professional audio and video equipment. Participants in the webinar should register in advance and can hear the live voice of the presenter during the session. Through a webinar, use can be made of polls, live chat and surveys. So it's a very interactive way of communicating.
Eva's Service Bureau offers three different types of webinars to be divided into two types:
Simple variant
1. Webinar with only the use of screen sharing and audio. It's only to hear the voice of the presenter.
2. Webinar video. By means of a webcam, the presenter is visible.
Professional variant
Webinar with professional audio and video equipment and in addition many extra features.
The presenter is now giving a full presentation, for example in his own studio.
This takes place under the supervision of the professional crew of Eva's Service Bureau.
1. A webinar is an effective and efficient way to communicate with each other. 2. The use of a webinar saves time and costs such as travel costs, travel time and venue rental.
3. With a webinar a large and targeted online audience can be addressed and achieved. For example, there is also the advantage that a viewer is not bothered by other attendees to ask a question.
11 Benefits of a professional webinar
1. Use of cameras and good sound equipment. It's an excellent method of providing multiple speakers and/or communicating messages from a professional appearance. 2. Professional webinars offer many possibilities regarding branding. The logo and corporate identity is visible in more places. 3. The webinar works on all browsers, platforms and mobile devices. Viewers don't need to download any software.
4. It's possible to fully and extensively protect the webinar by including passwords and IP lockouts. 5. The presentation is subsequently automatically and instantly available on demand. 6. The on-demand version of a professional webinar is searchable on the agenda, speaker, slide or words used in slides. 7. The professional webinar takes place under intensive supervision and support. 8. The professional version offers options for integrating social media, such as a live Twitter feed. 9. There are comprehensive reports available. 10. A professional webinar provides linkage capabilities with other applications (e.g. CRM software). 11. Multicast support for live webinars in (complex) internal networks.
Source: The Great webinar manual – webinar.nl
Request quote